Editor Notices

A celebration is in order here at CAN Magazine, with the publication of our 50th edition! This is quite a milestone, and the road has never been easy. We are all too aware of the objective hurdles facing any printed art magazine, let alone a quality-print art magazine covering the day-to-day Israeli art scene. ICU (International Cultural Union), the NPO producing our magazine, deserves a lot of credit for its vision and perseverance. Fifty voluminous editions, filled with artistic knowledge, pri...Read more...
Galleries
ve, as if saying: "Here I am, and this is how I look (in fact, how I will look), with all my wrinkles and sagging skin, my face is scarred by time. I am human". Curator: Hana Barak Engel ...
All Galleries
Museums
flowers were flowers and lines were lines. Later, influenced by Impressionist painting, I started to deconstruct the image, which is evident in my later works." curator: Dr. Doron J. Lurie ...
flight for a moment, coming down to see "if the waters were abated from off the face of the ground." (Genesis 8:8) This is the calm that Amram seeks for herself and for us. Shir Meller-Yamaguchi ...
All Museums
Publication
world (and the center of the canvas), thus expressing an inner world; and the figures she chooses to portray become those who speak through her, while she speaks through them. Dr. Nurit Cederboum ...
o be attributed to Tabakov, who gracefully and beautifully portrays contradictory situations of toil and hardship, making the viewer stand in awe and empathy at the same time. Dr. Nurit Cederboum ...
All Publication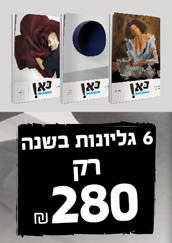 Can artmagazine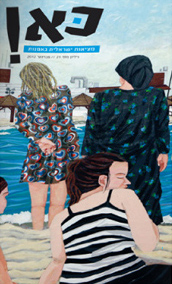 New magazine

New book